UPCOMING EVENTS

San Francisco Event
Thursday, Sept. 20, at Little GemRestaurant, 400 Grove St., Hayes Valley, San Francisco.

19th Annual Friends of Friends NY
Saturday, September 22, at Royal Seafood Cuisine, 103-105 Mott St., NYC. Click here for tickets.

Tokyo Gala
Friday, October 12, at The Capitol Hotel Tokyu, Tokyo. For information, contact friends@fwab.jp or Akiko@fwab.org.

Hong Kong Gala
Thursday, October 25. Click here for tickets.

Luang Prabang Half Marathon and Gala
October 19-21, Luang Prabang, Lao PDR.Click here for race registration
Click here for gala tickets.

20th Annual Friends of Friends Photography Auction
Wednesday, December 12, at The Highline Loft, 508 W. 26th St., NYC

VOLUNTEERS WANTED!
Physicians and Nurses

LFHC has a pressing need for nurses and physicians. The hospital is seeking pediatric, neonatal and operating room nurses.
If you know someone who might be interested in volunteering, please refer them to our website for more information.

LFHC is seeking candidates for the full-time position of Executive Director.
Further information is available on our website or can be obtained by contacting hr@fwablaos.org.
LFHC Therapists Help Khmu Boy Recover from Fall
   While climbing a tree near his home, 5-year-old Ker Hardjorng slipped and fell roughly 12 feet to the ground. The fall rendered him unconscious, so his worried parents immediately began an 11-hour journey to Lao Friends Hospital for Children.
Ker remained unconscious for several hours during the trip. Upon the family's arrival at LFHC, doctors noted that Kerr seemed semi-conscious and clearly had suffered a leg fracture.
Ker's family is Khmu, the largest minority ethnic group in northern Laos. Of course, the hospital employs staff members who are Khmu and they were available to serve as translators for the boy's doctors and nurses.
The doctors ordered an emergency CT Scan, which showed a swelling of Ker's brain and the presence of blood and fluid in the middle of the brain.
Ker was treated for his leg fracture and given medication to reduce his blood pressure and ease his pain, but there was doubt that he could survive the injuries.
LFHC Doctor Selected for Residency Program
  Dr. Vilayvone Senkeo has been granted a place in the three-year Pediatric Residency program at the National Children's Hospital in Vientaine. The Lao Pediatric Society selected her for the program and her tuition and living expenses will be covered by a donated scholarship. She will return to LFHC in 2021.
Dr. Senkeo started working at Lao Friends Hospital for Children in 2015 shortly after it opened its doors and began treating patients. She had just completed medical school in Vientiane and was thrilled to work in a new children's hospital in her hometown.
The hospital administration and staff congratulate Dr. Vilayvone for this wonderful opportunity to continue her training. Read more here.
Nurse Completes Anesthesia Program
   Kuelee Lao Faiyia has successfully completed his comprehensive examination in the LFHC Nurse Anesthesia Program.
As part of the program, he administered anesthesia in more than 600 procedures at the hospital and attended classes in basic sciences, pharmacology, anatomy, physiology, pathophysiology and anesthesia management.
The program has been approved by the Luang Prabang Provincial Health Department and has been submitted for recognition by the International Federation of Nurse Anesthetists. Read more here.
GoFundMe Campaign Gains Support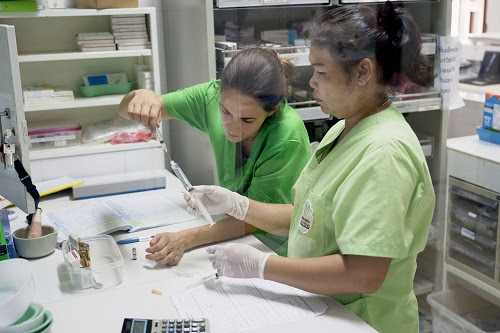 The GoFundMe team donated $1,000 to the fundraising campaign initiated on its website by Friends Without A Border. The donation was made as part of the team's Gives Back Program.
We've noted in previous newsletters that our doctors and nurses are treating record numbers of children. As the caseload increases, so do many of the hospital's expenses. Medicine is one of LFHC's largest expenses.
We launched a GoFundMe campaign to raise money for medicine. Here's a link to our GoFundMe page. We set our goal at $25,000. Yes, that seems like a lofty goal. But Friends Without A Border was founded upon a lofty goal: To ensure that no family loses a child because they cannot afford the medicine to save their child's life.
Please help us reach this goal. If you cannot make a contribution, please spread the word. Tell your family and friends. Post a link to our GoFundMe campaign on your Facebook page and your Instagram page. Tweet about it.
We cannot thank you enough for your support.
Child Life Therapist to Study in Macau Program
Child Life Specialist Kongmeng Sialee has received a scholarship to spend September studying at the International School of Macau.
As a participant in the school's Lao Outreach Program, he will learn how to interact more effectively with patients who have autism, development delay and speech problems. He will also have the opportunity to observe the school's counselling, speech therapy and occupational therapy departments.
The International School of Macau started the outreach program in 2013 to allow teachers at the school to mentor educators from Lao PDR. The school formed a partnership with GLOBE, a Canadian nonprofit, and My Library in Luang Prabang to facilitate the program.
We are excited that Kongmeng has this chance to learn new skills, network with professionals from other countries and be an ambassador for LFHC.
Lao Pop Star to Perform at Luang Prabang Gala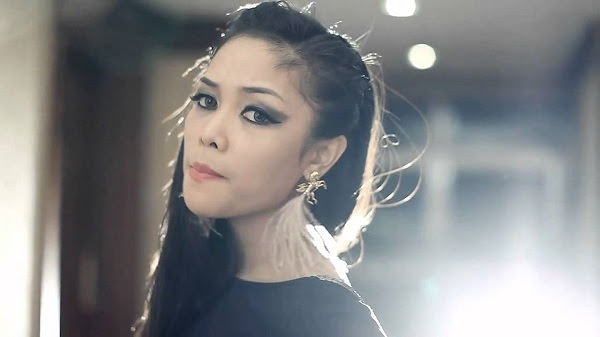 The 2nd Annual Luang Prabang Gala will feature a performance by pop star/model Tot Lina.
Tot Lina is a unique artist who began her career soon after high school graduation in 2004 when she became a model in the Sinsay Cultural Club, which is sponsored by the Lao Ministry of Culture, Information and Travel. She was Lao Super Model in 2015 and 2016.
As a Lao and English speaker, she worked for the Lao National Radio Station before launching a career in music. In 2011, she released her first single, "Nightmare," which won her the Best Pop Song of the Year Award at the 2012 Lao Music Awards.
The gala is planned for Friday, Oct. 19, at the Pullman Hotel Ballroom in Luang Prabang. Proceeds from the gala support Lao Friends Hospital for Children. Tickets for the event may be purchased here.