Hospital Caseload on Pace for Record Year
   The hospital's doctors, nurses and other professional staff handled a total of 3,066 medical cases last month – an 11% increase in caseload from October of 2018.
By the end of October, the hospital had recorded a total of 27,979 medical treatments for children in northern Laos this year — a 29% increase from the first 10 months of 2018.
Neonatal Staff Saves Life of 1kg Infant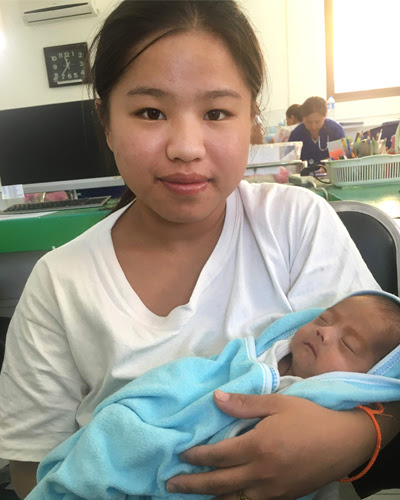 A newborn child admitted to our Neonatal Unit typically spends less than a week there. However, some babies cannot survive without a lengthier stay. Airnoy Sounie needed more than two months of the intensive care provided by the unit's doctors and nurses.
Airnoy Sounie was born prematurely at only 28 weeks gestation. The LFHC team was asked to attend his delivery at the neighboring Provincial Hospital and immediately provided resuscitation and the care necessary to help him survive. He weighed less than 1 kg (about two pounds) at the time of his birth.
In the Neonatal Unit, he was placed on a CPAP machine to help him breathe, given IV fluids and fed by a nasogastric tube.
Thanks to the excellent care provided by the unit's doctors and nurses, Airnoy Sounie is now home with her grateful parents.
Phonxay Staff Trains at LFHC
   LFHC recently provided training for 10 nurses and medical assistants from health centers in Phonxay District, Luang Prabang.
The two-week training session, titled "Right Diagnosis, Right Treatment," was commissioned by the Provincial Health Department and the Swiss Red Cross and conducted at LFHC. It focused on common pediatric conditions that these practitioners regularly face in their health centers.
The training is yet another example of LFHC's role as a teaching hospital.
   Dr. Dorkeo Buapao has returned to LFHC as the first doctor supported by our hospital to complete the Pediatric Residency Program in Vientiane.
She had been working at LFHC for less than two years when she was admitted into the program. She spent three years in residency training at different hospitals in Vientiane to become a pediatrician.
Dr. Dorkeo said she is happy to be back at the LFHC and excited to see the many changes at the hospital since she left. She was particularly impressed by the hospital's new Neonatal Unit.
LHFC currently has three more doctors attending the Pediatric Residency Program in Vientiane.
Half Marathon Weekend Winner: LFHC
   Runners, golfers and donors celebrated the accomplishments of LFHC last month during a weekend of activities that began with the Lao Friends Third Annual Gala Dinner.
The gala attracted more than 150 supporters and featured a special musical performance by Jojo Miracle and a welcoming dance performance by Puang Champa Cultural House. Attendees included Miss Universe Laos 2019 and Miss International Laos 2019 as well as Laotian Pop Star Tot Lina.
The busy Half Marathon Weekend also featured The Carlsberg Golf Classic, which became a fundraising event for the hospital for the first time this year.
And the weekend culminated with the annual Run for the Children Luang Prabang Half Marathon. Roughly 1,800 runners participated in this year's event — exceeding last year's race by about 200 participants.
Proceeds from the three events benefit LFHC. Many thanks to all the sponsors and attendees of the events!
Click here for Half Marathon pictures and video.
LFHC is also looking for a Neonatal Nurse to volunteer for a period of 6-12 months. Information about the Neonatal Nurse position and how to apply can be found here.
The hospital is also seeking experienced doctors and nurses to serve as volunteers in January, February and March.. Information can be found here.