UPCOMING EVENTS

Los Angeles Event
Wednesday, May 23, at the Spring restaurant. Actor John Cho will be the emcee for the event. Click here for tickets.

19th Annual Friends of Friends NY
Saturday, September 22, at Royal Seafood Cuisine, 103-105 Mott St., NYC. Click here for tickets.

Tokyo Gala
Friday, October 12, at The Capitol Hotel Tokyu, Tokyo. For information, contact friends@fwab.jp.

20th Annual Friends of Friends Photography Auction
Wednesday, December 12, at The Highline Loft, 508 W. 26th St., NYC

VOLUNTEERS WANTED!
Physicians

LFHC has an pressing need for physicians.
If you know someone who might be interested in volunteering, please refer them to our website for more information.

LFHC is looking to hire an English teacher/coordinator to work at the hospital in Luang Prabang. The individual will teach written and spoken English to Lao medical, nursing and administrative staff. For further information contact hr@fwablaos.org.
New Wheelchairs Bring Smiles to Young Faces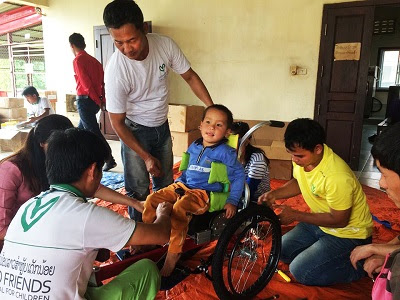 LFHC has been trying for quite some time to obtain wheelchairs for children who need them. Wheelchairs for Kids, a nonprofit organization based in Perth, Australia, recently donated wheelchairs for 11 children at our hospital. The organization also trained our staff in how to fit them to individual children. The region's dirt roads and poor infrastructure make it difficult for these children to attend school — or move around at all. Their new wheelchairs are durable enough to support the children on dirt roads and we hope they will open up new opportunities for them.
Friendly Competition Sparks Blood Drive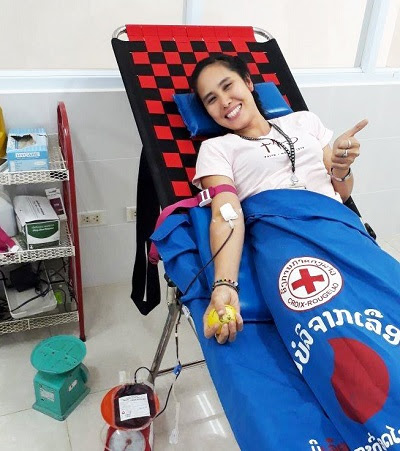 There is only one blood bank in Luang Prabang to support six hospitals in the region. Blood supply is low and we often cannot provide transfusions for all the patients who need them. To help increase the blood supply, LFHC hosted a two-week blood drive competition among our staff. Everyone was divided into different teams and the teams with the largest number of blood donors won a prize! During the competition, 18 staff members donated, many of them donating for the first time! "I was first afraid of donating, but it didn't hurt at all and I felt good helping other people," said one donor. Thank-you to all the staff who participated!
Nutritionist Serves Up Dietary Education
  Malnutrition is still an extremely common condition in Lao PDR. Our clinical team is treating malnourished patients with therapeutic supplements. However, it is also crucial to educate families about the importance of a nutritional diet. Soulee Chakeryere, our nutritionist, recently conducted a cooking demonstration on how to prepare a nutritious porridge. It is easy to make with readily available ingredients.
Sweet 16: Record Crowd Turns Out for 16th NY Gala
   More than 325 people filled the Edison Ballroom in Manhattan on April 5 and their overwhelming generosity made the 16th Annual New York Gala a smashing success. The fundraising event grossed more than $465,000. Attendees were treated to the premier of "Song of Thongsy," a video that offers a look at the amazing work being performed by the doctors, nurses and staff at LFHC.
FWAB Honorees
Martina Hund-Mejean became the first recipient of the Friends Without A Border Excellence in Corporate Leadership Award at our 16th Annual New York Gala on April 5. Longtime Board of Directors member and former Board Chairman Michael Stern was presented the Best Friend of Friends Award at the event.
Research Published 
Dovepress in New Zealand recently published an academic research paper produced by The Lake Clinic in Cambodia. The paper addressed the knowledge and preventative behaviors of caregivers treating children in two floating villages on the Tonie Sap Lake. This is the second academic paper that TLC has had published. The paper can be viewed here.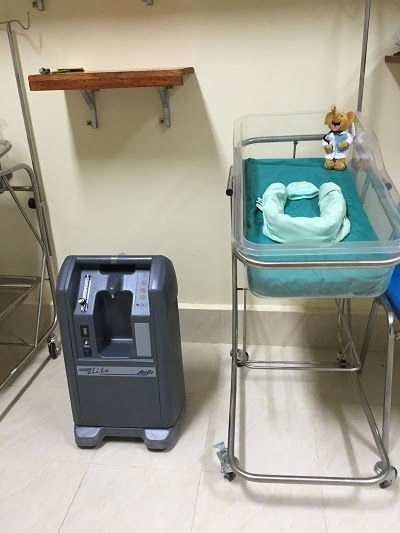 Renovations Progressing
Relocating the Neonatal Unit into the former children's ward at the Provincial Hospital encountered a few unexpected roadblocks that required extensive consideration and negotiation. However, the planned renovation of the space is back on track. Recruitment and training of staff for this area are underway.
Copyright © 2017 Friends Without A Border, All rights reserved.
You are receiving this email because you donated, opted in at our website, or attended one of our events. Unsubscribing from this email will prevent you from receiving Friends Without A Border's monthly newsletter and updates from our programs.
Please help us say yes! Donate or sign up for our monthly giving program today. Your generous support will help us to deliver high-quality and compassionate health care to children in Southeast Asia every minute of the day, every day of the year.