LFHC is seeking a Human Resources Specialist to serve as a volunteer to train the HR staff at the hospital.Details can be found here.

The hospital is also seekingexperienced doctors and nurses to serve as volunteers during the months of June, July and August. Information can be found here.

LFHC also seeks a Supervising Pediatrician to serve a one-year commitment and a Neonatal Nurse for a period of 6-12 months. The Neonatal Nurse position is primarily responsible for the education, training and development of the LFHC neonatal nursing team. Information about the position and how to apply can be found here.
Surgeons Save Brain-Injured Boy
   When little Nok Chante arrived at LFHC, he was unconscious. He had been in that condition since falling from a tree in his village 28 hours earlier.
Immediately after the accident, Nok's family didn't know what to do – they had no money to pay a doctor or hospital. They were extremely worried.
A neighbor heard about the Nok's injury and told his family that he knew there was a children's hospital in Luang Prabang that provided free medical care. So the famlly borrowed enough money for transportation and made the long journey to LFHC.
Emergency Room doctors quickly ordered a CT scan for the unconscious boy. The scan revealed a larger intracranial epidural hemorrhage – blood had filled the area between his brain and skull and was pressing down on his brain.
LFHC Trains District Hospital Staff in Transfusion Procedure
   During the past few months, LFHC staff has been training doctors and nurses from Namback District Hospital to safely give blood transfusions to thalassemia patients.
Thalassemia is an inherited blood disorder which afflicts many people in northern Lao PDR. Regularly scheduled blood transfusions can prevent anemia and related conditions caused by thalassemia.
Earlier this month, LFHC Dr. Lakiher Latongxai, nurse Bounhome Inthidate and Laboratory Manager Anousin Phonedala went to Namback District Hospital to help set up the thalassemia transfusion service there. The district hospital may eventually serve as many 40 transfusion-dependent patients.
It will be much more efficient and comfortable for some families to travel to Namback District Hospital for their transfusions every month; then every three months they will come to LFHC for a complete checkup.
Register Now for the Luang Prabang Half Marathon!
Online registration is now open for the Run for Children: Luang Prabang Half Marathon 2019!
The annual charity race will take place on Sunday, Oct. 20. All proceeds from the run support free patient care at Lao Friends Hospital for Children.
Runners can choose a distance of 7km, 14km, or 21km along a scenic loop course that weaves past temples and local homes through the heart of the historic UNESCO town.
Last year, the event attracted 1,600 runners from 42 different countries.
Runners are encouraged to set up their own crowdfunding page to support LFHC. By raising $500 or more, a runner's registration fee will be reimbursed during race pack pickup.
   The hospital staff welcomed the Lao New Year last month with a traditional Baci ceremony.
Many families hold a Baci at their homes to ring in the new year and to wish their elders good health and long life. The Baci is held on the last day of Boun Pi Mai (Lao New Year's Festival).
Boun Pi Mai is the most widely celebrated festival in Laos. While it's typically celebrated for three days elsewhere in the country, Luang Prabang celebrates for almost a full week!
During this time, the festival of water is very popular and people throw water on each other (with water guns or buckets). The celebration includes a Grand Parade, in which about 200 monks and more than 1,000 people wearing traditional clothes and costumes march to Wat Xieng Thong, the most holy temple in town.
Sok Dee Pi Mai! (Happy Lao New Year!)
Savor Your Senses Hosts Magical Night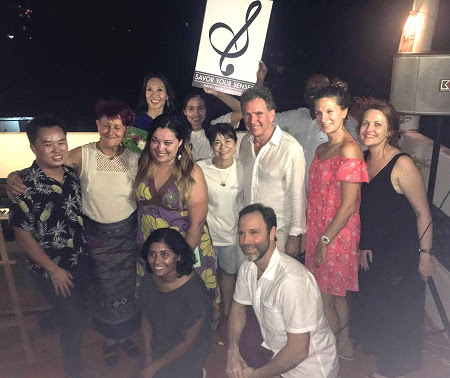 Elaine Kwon and Kevin McCaffrey, founders of Savor Your Senses, along with Philipp Lajaunie, food and wine expert and FWAB Board Member, hosted a magical night earlier this month to support Lao Friends Hospital for Children.
Guests were treated to a program of musical performances thoughtfully paired with excellent wine and food. The event was held at the Friends Gallery in Luang Prabang.
Elaine Kwon is an award-winning concert pianist, Lecturer in Music at Massachusetts Institute of Technology and Co-founder/President/Artistic Directorr of Savor Your Senses. As part of thie evening, Elaine performed a special musical collaboration with Lao pop star and LFHC supporter Bidalack Syackhaphom (Touly).
Rolling Out the Red Carpet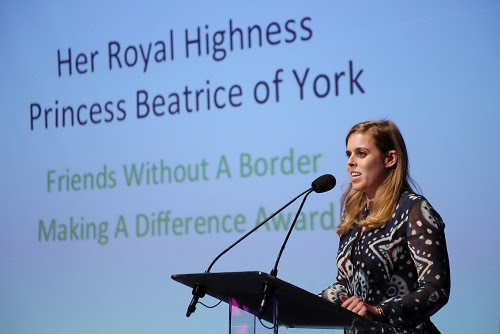 More than 300 guests gathered at the Edison Ballroom in Manhattan on May 15 for the 17th Annual New York Gala, an event that honored a member of Britain's Royal Family and celebrated the birthday of the founder of Friends Without A Border.
The event raised a net total of $390,000 for the benefit of Lao Friends Hospital for Children.
Her Royal Highness Princess Beatrice of York was awarded the organization's first Making A Difference Award for her recent support of the hospital.
The evening closed with a surprise birthday celebration for Friends Without A Border Founder Kenro Izu.