Coronavirus Impacts LFHC Staffing, Fundraising Events
 Breaking news: Laos has just confirmed its first two cases of Covid-19. Like hospitals everywhere, LFHC is worried about running out of supplies.
All of the hospital's international volunteers — doctors, nurses and other health-care providers — have been called back to their home countries. Hospital management and the Lao staff are working longer hours and extra shifts to ensure that children continue to receive compassionate, quality medical care. The staffing crunch also affects the protected teaching time for Lao doctors participating in the new LFHC Pediatric Training Program. We need to hire extra staff.
The pandemic has forced Friends Without A Border to postpone all annual fundraising events. (See the story below about the planned New York City event.) Unlike many nonprofits, we are very event-heavy in our fundraising plan. We could use your help! Please click here to make a donation. Your support is greatly appreciated!
New York Gala Rescheduled
   The coronavirus pandemic forced us to postpone the upcoming 18th Annual New York Gala, but we have rescheduled this important fundraising event for Thursday, September 17.
Friends who wish to attend may purchase tickets and tables in advance here.
"Accomplishing Our Mission" is the theme of this year's gala. The global law firm Dentons and attorney Walter Van Dorn, a Dentons partner and pro bono lawyer for Friends Without A Border, will receive our Excellence in Corporate Leadership Award at the event. Longtime supporters Richard and Ellen Cook will be honored with the Friend of Friends Award.
Broadway star Jarrod Spector will be the featured entertainer.
New Medical Records System Initiated
   Hospital staff members have begun using a new medical record-keeping system that is designed to improve clinical decision-making.
Twenty-six doctors and 55 nurses have been trained to use the system, the Bahmni EMR system. The new system integrates data from clinical, radiological, pharmacy and laboratory sources and presents it in a logical and intuitive way. It enables quicker improved clinical decision-making, a reduction in medical errors, more efficient use of doctor and nurse time, and contributes significantly to better patient outcomes. Our system serves as a model for hospitals and clinics throughout the Lao PDR.
6-Year-Old Girl Treated for Serious Burns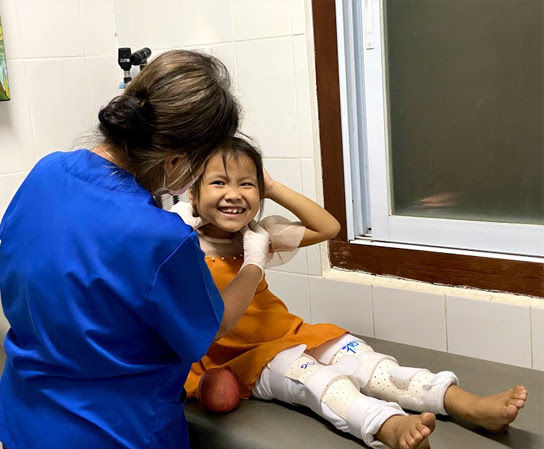 One day in mid-December, 6-year-old Xiasee strayed too close to a cooking fire at her home in Bokeo Province and the flames ignited her skirt. The little girl suffered burns to her legs and lower abdomen.
Her parents rushed their daughter to Bokeo Province Hospital, where she was treated for the burns, but soon decided to make the 10- to 12-hour journey to bring her to Lao Friends Hospital for Children.
Our doctors and nurses recognized that Xiasee needed to be hospitalized — she had suffered second- and third-degree burns to roughly 12% of her body. They treated her burns and then sent her to a hospital in Vientiane for skin-graft surgery. She has returned to LFHC for further treatment and is recovering nicely.
Nurses Train in Treatment for Pediatric Emergencies
   Nurses at LFHC recently participated in a training course designed to help them recognize unstable patients and be able to intervene appropriately.
The training was conducted by volunteer Cindy Brownlee, a registered nurse from Seattle and a certified instructor for the American Heart Association. She specializes in teaching courses in Pediatric Advanced Life Support (PALS) and Pediatric Emergency Assessment Recognition and Stabilization (PEARS).
Brownlee worked with LFHC nurses Khamxai Xongyikhangsuthor and Maly Chittapai to combine and modify the courses. The training was modified because PALS uses medical equipment that isn't available at LFHC.
The course employs many simulations typically used for training nurses in the United States, but less common in Laos. The simulations trained nurses to work as a team to treat children facing different types of medical crises. Each nurse was trained to perform such roles as team leader, medication nurse and recorder.
Nutritionist Attends Clinical Nutrition Course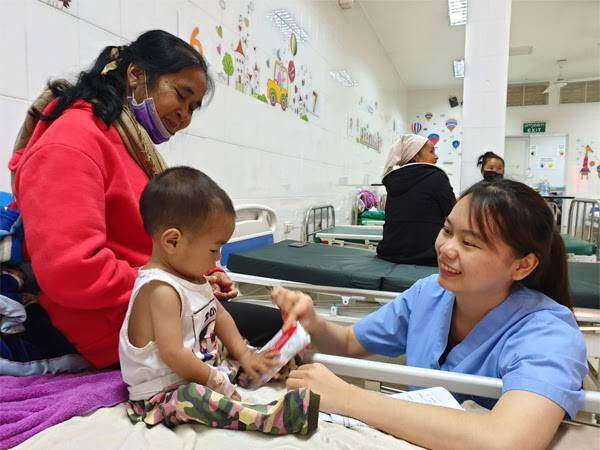 Hospital Nutritionist Soulee Chakeryere is attending the Clinical Nutrition and Dietetic Course at the Lao Clinical Nutrition Education & Research Partnership (LNCP) in Vientiane.
The intensive two-month course covers the fundamentals of nutrition as well as malnutrition, counseling skills, pediatric nutrition and possibly other topics that the students deem important. The curriculum is student-centric, so the instructors adapt to the course to what the students see in their hospitals and clinics and what they have the most need to learn.
The hands-on component of the course will primarily take place at National Children's Hospital in Vientiane.
Works of HeART Entrees Displayed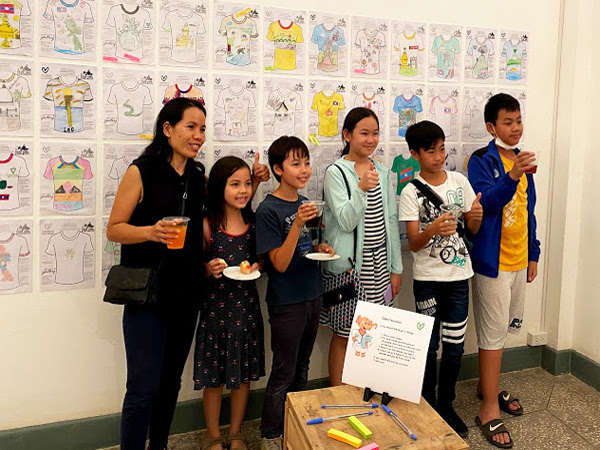 The works of more than 200 children competing in the Works of HeArt contest were recently exhibited in the Friends Gallery in Luang Prabang. The theme of the competition is "What I love about Laos" and the winning design will appear on T-shirts and postcards that will be available for sale at the Friends Gallery.
Children from five to 12 years old were invited to submit designs. The competition is sponsored by LFHC and Tiger Trail Travel, which is celebrating its 20th anniversary. A committee of judges will select the best design.
Proceeds from the sale of items at Friends Gallery benefit LFHC.
Israeli Tourists Respond to Call for Blood Donors
   A stable blood supply is critical to any hospital's ability to provide quality care to patients. LFHC is always in need of blood donations to take care of our growing patient population, particularly for children with thalassemia, an inherited blood disorder.
During January and February, Dr. Gillat Raisch, a volunteer pediatrician from Israel, saw first-hand LFHC's need for blood. He subsequently reached out to the local Israeli tourist community and explained the need for blood donations.
The community responded and as a result, Israeli tourists have donated blood every week. The number of their blood donations now exceeds 100 per month! Their support has helped build a stable supply of blood for LFHC as well as all of Luang Prabang province.
Dr. Raisch continues to encourage blood donations from afar. LFHC is incredibly grateful to Dr. Raisch and the Israeli tourist community.