UPCOMING EVENTS

Lao Friends Hospital for Children 4th Anniversary
The anniversay celebration is scheduled for January 22 at the hospital in Luang Prabang, Laos.

Taste the World
The annual chairty wine-tasting event will be held on Tuesday, January 29, at the Hyatt Regency Hotel Ballroom in Vancouver, British Columbia, Canada.Click here for information and tickets.

LFHC has a pressing need for nurses and physicians. The hospital is seeking pediatric, neonatal and operating room nurses.

The hospital is also seeking a volunteer Medical Laboratory Technician for a commitment of one to six months.

If you know someone who might be interested in volunteering, please refer them to our website for more information. 
LFHC Welcomes New Chief Administrator
   Lao Friends Hospital for Children is very pleased to welcome Dr. David Brewster as the facility's new executive director.
   Dr. Brewster brings a wealth of experience in pediatrics and hospital management to LFHC. He has been active in acute clinical medicine since his graduation in 1973 from the medical school at McMaster University in Canada, and has worked in several countries.
   Since 2013, Dr. Brewster has served with an Australian Aid Project in the Southeast Asia country of Timor-Leste (East Timor). The project focuses on women and children's health. He was also responsible there for pediatric postgraduate training.
   Before leaving for East Timor, he was the Clinical Director of Pediatrics at Canberra Hospital in Australia.
Best Wishes to Simon and Chris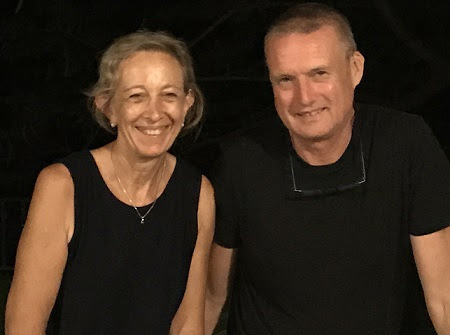 During the past three years, Executive Director Simon Young and Medical Education Director Christine Sanderson have overseen a period of extraordinary growth at Lao Friends Hospital for Children.
   They will be leaving their posts this month at the conclusion of their three-year contracts, having spearheaded programs and projects that saved the lives of so many children and improved the health of countless others.
   "Friends Without A Border will be eternally grateful for the incredible contributions made by these two skilled pediatricians/administrators," said FWAB Executive Director Nicole Pagourgis. "They will be greatly missed."
Doctors See Rare Case of Child Diabetes
  Six-year-old Thorhua Wa was brought to LFHC last month after her parents became concerned that she wasn't sleeping well and getting out of bed often to urinate.
   Doctors determined that Thorhua was afflicted with malnutrition-related diabetes. This is not a condition that LFHC doctors see very often and is extremely complicated to manage. Malnutrition-related diabetes is similar to Type 1 diabetes, but patients require 2-3 times more insulin to manage their disease.
   The staff instructed Thorhua's parents about how to proceed after measuring her glucose, how to inject insulin safely, and how to read her symptoms — especially for signs of low blood-sugar which can cause seizure, coma or death if not quickly recognized and treated. The nutrition team devoted much time to teach the family about managing Thorhua's diet.
Nurse Keo Sysaythong, Breastfeeding Educator
   Breastfeeding is extremely important to the health of a newborn infant. At LFHC, nurse Keo Sysaythong serves as the hospital's lactation consultant.
   In early 2017, Keo expressed an interest in learning more about maternal health and what could be done to help new mothers properly breastfeed their infants. Since then, she has completed breastfeeding training with specialists from France and Australia.
   She now spends two afternoons a week in LFHC's Neonatal Unit, helping mothers express milk and feed their babies. She is also putting her knowledge to work in the maternity ward of the Luang Prabang Provincial Hospital.
   Hospital administrators say Keo's passion and love for her job are contagious, and her patience and gentle nature make her an incredibly valuable support person for new mothers.
AccorHotels Visits LFHC for Solidarity Week
   Representatives of AccorHotels recently celebrated Solidarity Week with the patients, their families and staff of Lao Friends Hospital for Children. The group treated everyone to lunch (and cupcakes) and brought gifts and games for the children.
   They also provided a bit of musical entertainment for the children and managed to get a few of our doctors to sing along with them.
   The AccorHotels group included representatives from Pullman Luang Prabang, Sofitel Luang Prabang, the 3 Nagas boutique hotel and SSMI financial consultants.
   Friends Without A Border and the LFHC staff thank AccorHotels for bringing many smiles and much laughter to the children.
Lao Staff Teaches Slate of Short Courses
   LFHC now conducts 12 short courses in subjects ranging from Excel software to neonatal nursing to wound care. The courses were designed and developed by the hospital's Lao staff members, who also serve as course instructors.
    By having the Lao staff teach the content, the hospital is helping them develop as leaders and specialized trainers.
   These staff members have also been teaching courses at other health care facilities in the region on such topics as breastfeeding, triage and basic life support.
FWAB Photo Auction: A Picture of Success!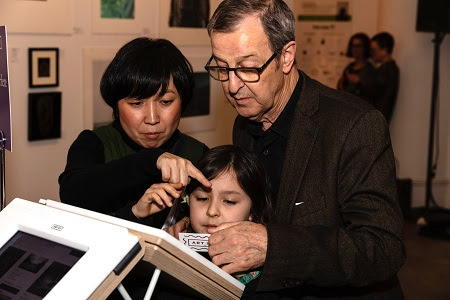 The 20th Annual Friends of Friends Photography Auction proved to be a dazzling display of art and generosity.
   The Dec. 12 event raised more than $163,000 (gross) for the benefit of Lao Friends Hospital for Children. More than 100 artists contributed their works to the auction.
   A crowd of more than 150 attended the event at The Highline Loft and were very active in the live and online auctions.
   The Board of Directors and staff of Friends Without A Border thank all who attended and participated in the auctions.