UPCOMING EVENTS

19th Annual Friends of Friends NY
Saturday, September 22, at Royal Seafood Cuisine, 103-105 Mott St., NYC. Click here for tickets.

Tokyo Gala
Friday, October 12, at The Capitol Hotel Tokyu, Tokyo. For information, contact friends@fwab.jp or Akiko@fwab.org.

Hong Kong Gala
Thursday, October 25. Details will be forthcoming.

Luang Prabang Half Marathon and Gala
October 19-21, Luang Prabang, Lao PDR.Click here for race registration.

20th Annual Friends of Friends Photography Auction
Wednesday, December 12, at The Highline Loft, 508 W. 26th St., NYC

VOLUNTEERS WANTED!
Physicians and Nurses

LFHC has a pressing need for nurses and physicians. The hospital is seeking pediatric, neonatal and operating room nurses.
If you know someone who might be interested in volunteering, please refer them to our website for more information.

LFHC is seeking candidates for the full-time positions of Executive Director and Medical Education Director.
Further information is available on our website or can be obtained by contacting hr@fwablaos.org.
LFHC Forges Relationship with Red Cross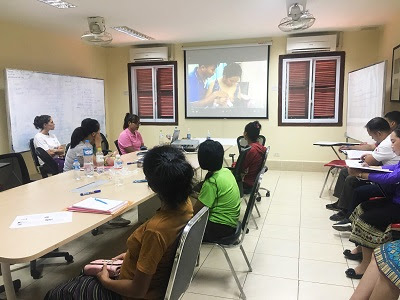 LFHC recently developed a new and important relationship with the Swiss Red Cross.
Our hospital staff trained Red Cross health care workers from various districts in Laos in techniques designed to promote breastfeeding among new mothers. Our staff developed a two-day curriculum during which they taught 10 Swiss Red Cross and government employees how to counsel mothers on breastfeeding and proper diet. A focus of the effort is to stress the importance of breastfeeding to the health of a newborn infant.
This new relationship with the Swiss Red Cross furthers LFHC's capacity-building efforts in the country. By maintaining an effective Outreach Team and working with other nonprofits, hospitals and the Lao government, LFHC is expanding its services and knowledge beyond its hospital walls.
A Volunteer's Story: 'Magical, Spiritual Setting'
   Aya Husni Bey, a therapeutic play practitioner and holistic counselor, recently wrote about her experiences as a volunteer at LFHC for the My Molatravel blog. She spent four months at the hospital and participated in the remarkable recovery of a six-year-old boy who fell from a tree and seemed to have no chance of surviving.
"Of course, the human body and spirit can be wonderfully unpredictable anywhere, but it seemed right and fitting to me that such an utterly confounding, joyful recovery would occur in this magical, spiritual setting," Aya writes. Read her account of her time at LFHC here.
Friends Gallery Ready for Ribbon-Cutting
   The Grand Opening of the new Friends Gallery is scheduled for Thursday, Oct. 18, the day before theSecond Annual Luang Prabang Gala.
The gallery is becoming a must-stop boutique for tourists. It offers the best in housewares, clothing,jewelry and textiles from such high-end shops as Hoi Sang, Carol Cassidy, Caruso Lao, Naga Creations, Ock Pop Tok, Anakha, Eric Raisina, Ma Te Sai, GAEBI and Gallery Asiama.
Gallery sales help finance operations of the hospital.
Proper Wound Care Saves Young Electric-Burn Victim
   Thirteen-year-old Maixong Yang was brought to LFHC in late June with a serious infection around an area where her right arm had been recently amputated.
She had been badly burned when she came into contact with an electric wire. She was taken to a hospital near her home and doctors there did everything they could, but her arm was so severely burned that it had to be amputated.
LFHC doctors immediately began to treat Maixong with cephalexin, an antibiotic effective in the treatment of skin and bone infections. The also adminstered the pain-killers paracetamol and ibuprofen and gave her multivitamins to boost her strength.
She has received several wound dressings and is responding well to treatment.
Doctors have treated several children for electrical burns since the hospital opened in 2015. A few patients have needed amputations. Such cases underscore the critical importance of proper wound care and the need for specific medications to fight infection — and our growing caseload has created a need to increase the hospital's pharmacuetical supplies.
Friends Launches GoFundMe Campaign
   We've noted in previous newsletters that our doctors and nurses are treating record numbers of children. As the caseload increases, so do many of the hospital's expenses. Medicine is one of LFHC's largest expenses.
We've launched a GoFundMe campaign to raise money for medicine. Here's a link to our GoFundMe page. We set our goal at $25,000. Yes, that seems like a lofty goal. But Friends Without A Border was founded upon a lofty goal: To ensure that no family loses a child because they cannot afford the medicine to save their child's life.
Please help us reach this goal. If you cannot make a contribution, please spread the word. Tell your family and friends. Post a link to our GoFundMe campaign on your Facebook page and your Instagram page. Tweet about it.
We cannot thank you enough for your support.
Lab Tech Completes Training Course in Thailand
   Singkham Saiykhamheuang (Kham), a laboratory technician at LFHC, recently completed a two-week training course at Chiang Mai University in Thailand. The course included instruction in method validation, which is the process used to ensure that laboratory equipment functions properly and generates accurate results. Kham's training is quite timely in that LFHC expects delivery of new lab equipment very soon. Kham is looking forward to applying his new knowledge to improve the quality of our existing lab equipment and running a project to introduce the new equipment next month.
The LFHC lab performed more than 3,280 tests during the first half of 2018.