LFHC is seeking a Human Resources Specialist to serve as a volunteer to train the HR staff at the hospital.Details can be found here.

The hospital is also seekingexperienced doctors and nurses to serve as volunteers during the months of June, July and August. Information can be found here.

LFHC also seeks a Supervising Pediatrician to serve a one-year commitment and a Neonatal Nurse for a period of 6-12 months. The Neonatal Nurse position is primarily responsible for the education, training and development of the LFHC neonatal nursing team. Information about the position and how to apply can be found here.
LFHC Welcomes New Staff to Management Team
   LFHC is welcoming three new staff members to its management team.
   Mark Gorman, who most recently served as the interim country director of World Education Laos, joins the staff as the hospital's Executive Director.
Mark brings 40 years of experience in the administration of nonprofits and public entities to LFHC. He speaks English, French, Lao and Thai.
   Dr. Lisa Rynn, who has taught pediatrics in Uganda, is the hospital's new Medical Director.
Lisa is a graduate of New York Medical College and is certified by the American Board of Pediatrics. Since completing her residency, she has working in a variety of clinical settings in Philadelphia and Uganda.
   Amalia Berger, a registered nurse who most recently worked with Medical Teams International in Bangladesh, is the hospital's new Nursing Educator.
A graduate of the University of Pennsylvania School of Nursing, Amalia worked more than three years in the Emergency Department of the university's hospital. In Bangladesh, she worked with teams treating Rohingya refugees.
RAD-AID Brings Cloud Computing to LFHC
   LFHC has taken a step "deep into the 21st century" with a new capability to store X-rays and other diagnostic images via cloud computing – thanks to the nonprofit RAD-AID organization.
RAD-AID recently linked the hospital to its Friendship Cloud, which it formed in a partnership with Google Cloud, Ambra Health and Tribalco. LFHC is the first hospital to use the RAD-AID Friendship Cloud and has already stored more than 14,000 patient files on it – making the hospital's patient care more efficient and effective.
Four Stars for Friends Without A Border!
   Charity Navigator, an independent watchdog of U.S.-based charities, has once again awarded four stars, its highest rating, to Friends Without A Border. A four-star rating is given to nonprofits that demonstrate strong financial health and a commitment to accountability and transparency.
This is the fourth consecutive year that Friends Without A Border has earned a four-star rating by Charity Navigator. Read more here.
LFHC Compassionate Care Helps Boy Recover from Severe Head Wound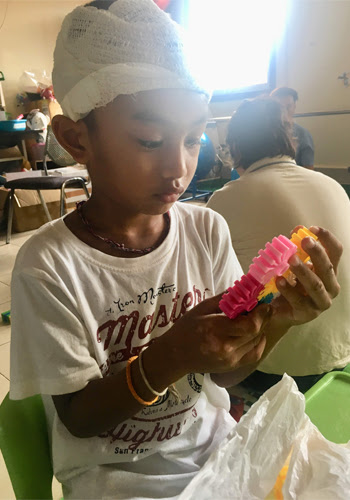 Six-year-old Jack Nouseng was recently struck by a car and dragged along the ground — an accident that left him unconscious with cuts on his shoulder and legs and a very large gash on his scalp.
When Jack arrived at LFHC, the Emergency Department staff immediately recognized that he had a large portion of skin, muscle and tissue torn away from his scalp, exposing his skull. As this poses a high risk for infection, the staff quickly cleaned his wounds, gave him antibiotics, and helped alleviate his pain.
LFHC's surgeons and Operating Theater team have been taking meticulous care of Jack's wounds every 2-3 days to ward off infection. After more than a month at LFHC, he has become a close friend to all of our nurses, doctors, therapists and staff. He is now often found running around and playing with the other kids.
LFHC Launches Second Blood Drive Week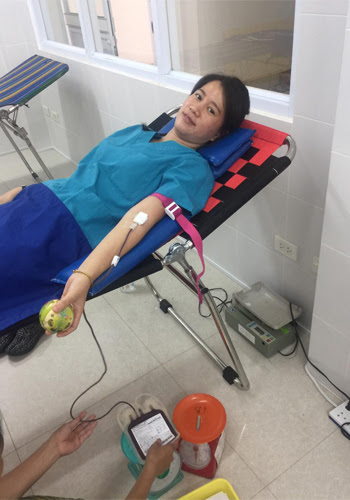 During the second week of June, LFHC organized the Second Luang Prabang Blood Drive Week to encourage blood donations in Luang Prabang.
In preparation for this campaign, the hospital staff formed teams and participated in a blood donation competition. Twenty staff members donated blood during the competition, many for their first time.
Our staff see the need for donated blood every day and the frequent blood shortages. It is important for our staff to be blood donors because it encourages other members of the community to donate.
Prior to the Blood Drive Week, Friends Gallery Manager Anoulas Siraphapa and Laboratory Manager Anousine Phonedala conducted educational sessions about blood donations at various businesses and schools around town. They spoke in Lao to more than 100 people at 10 information sessions in Luang Prabang.
Campaign Plants 100 Trees!
   LFHC conducted a Plant a Tree Campaign during the last two weeks of May as part of an initiative started by Mila Douangmixay, who is Miss Luang Prabang New Year 2019, and supported by Nahm Dong Park Luang Prabang.
Local residents and visitors were invited to the Friends Gallery to make a donation to the hospital in return for a tree or plant. This campaign was very well received and many people from the Luang Prabang community learned about the work we do at LFHC. And many donated for the first time! The event raised over LAK24,000,000 (about $2,775) and 100 trees were donated!
As part of the initiative, some friends also donated water, milk, soap, noodles, biscuits, notebooks and other items that were delivered to patients and families at LFHC to celebrate International Children's Day on June 1.
A Tae Kwon Do group, Mila's friends and community supporters, along with LFHC staff were present for games, storytelling, and planting trees at LFHC to celebrate both children and trees.
Thank you to everyone who participated in this exciting campaign!